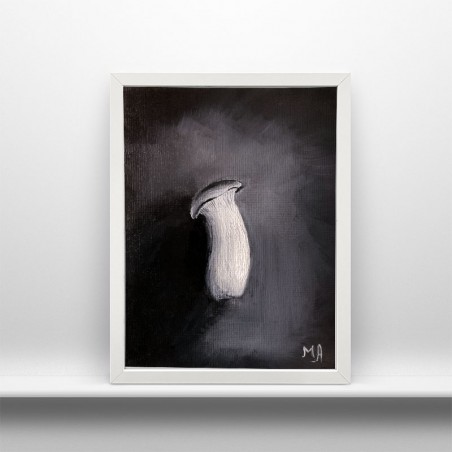  
Bouncing Light Painting
No tax
Shipping time 1-4 days
"Bouncing Light" is an original oil painting from my series of Monochrome paintings. It showcases the mushroom in shades of black and white, playing with the light that hits and bounces off its surface. The simplicity of the composition allows the viewer to focus on the mushroom's unique texture and how it interacts with light. This painting is a study on the interplay of light and form and how the absence of background and surrounding elements can enhance the subject's presence. The painting is a one of a kind, and a must-see for art lovers interested in monochrome, oil painting and minimalistic compositions.
105 x 148mm
unframed original oil painting
oil on paper
by M.Alikoviene
Signed on the front, signed & titled on the back.
Data sheet
Material

Oil on paper

Dimensions

105 x 148mm

Country of Origin

UK

Property

Unframed
16 other products in the same category: